Not to be confused with Sierra Finch, Sierra Sheridan, or Sierra Clark.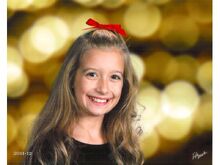 Sierra first appeared in Christmas, then she returned in Birthday, Nature, Flying, A Very Awesome Christmas, Show, and Mermaids. She is the sister of Aspen Jarvis.
Special Appearance: Meet Ava with Aspen
Side: Brobee
Age: 0, 1, 2, 4, & 8
Gender: Female
Goal: Teacher
Phrase: Why did the Bee go to the Doctor? Because he had Hives!
8-bit game: Ant Race, Feed the Animals, Brush Up, The Path Walking, Walking (with Aspen), Bubble Trouble, and Underwater Treasure
Toy: Made-Up Instrument, Rubber Chicken, Birds, Goldfish, Police Car (with Aspen), Tractor (With Nichol Thomas and Dinosaur Truck
Toy Music: Future Stars, Astronaut's Race, Writing the Future, Human Evolution, Electronic, Sheriff Callie Enters Town, and Scarlett's Ice Cream Tune
Appearance
Edit
In Christmas, this kid wore an orange Toodee sweater with a blue hat and scarf.
In Birthday, this kid was a Brobketeer and wore three red horns on her head.
In Nature, this kid wore pink Toodee overalls with black ballerina shoes.
In Flying, this kid wore yellow Foofa overalls with pink ballerina shoes.
In A Very Awesome Christmas this kid wore a yellow Foofa sweater with a pink hat and scarf.
In Show, this kid wore a green Foofa dress with Neon Light Sketchers.
In Mermaids, this kid wore a red Toodee dress with earpieces and black shoes.