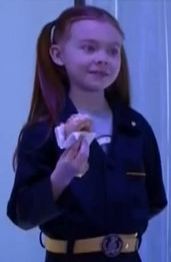 Scarlett first appeared in Gabba Revue.
Side: Foofa
Age: 7
Gender: Female
Phrase: We are all connected.
8 bit game: Super Scarlett Bros
Toy: Ice Cream Truck
Color of Toy: Pink 
Toy Music: Scarlett's Ice Cream Tune
Appearance
Edit
the Girl wears a yellow shirt with Foofa on it complete with a pink sweater, pink leggings, and black ballerina shoes.
She had appeared in TV shows such as "This is Scarlett, This is Isaiah" and "Odd Squad" in which she played O'Scarlett.