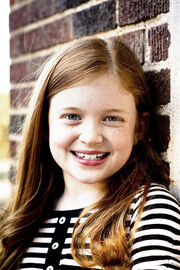 Not to be confused with Sadie Templin or Sadie Thompson.
Sadie's first appearance was Sleep.
Side: Toodee
Age: 7
Appearance: Sleep
Gender: Female
Phrase: Laziness will not be tolerated!
Appearance of the Kid
Edit
The kid is an Asian girl with dark hair, a Orange sweater with Toodee on it, complete with a blue skirt, tan, brown and orange socks and a pair of black ballerina shoes.