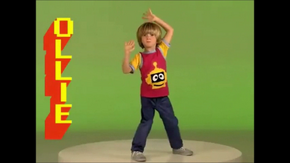 Oliver first appeared in Christmas. He returned in Treasure, Discovery, Sesame Street Platinum All-Time Favorites, Teeny Van Gogh, and Animals.
Side: A Green Shirt, an Orange Shirt, a Blue Shirt, DJ Lance Rock, Muno, Brobee and Plex
Age: 6, 7, 8, and 10
Gender: Male
Phrase: School is a great place to learn.
8 bit game: Underwater Treasure and Dancey Dance Time!
Toy: Dinosaur