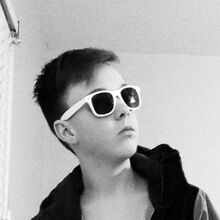 Not to be confused with Noah Walker, Noah Enriquez, Noah Lantz, Noah Collins, Noah Namakoong or Noah Winters.
Noah appeared in Dance,Happy, Halloween, Space, Ride, Nature, Adventure, Shopping, Day Camp, Restaurant, Dinosaur, Show, Beach, Grownups, Rain, and Meet Ava.
Side: Plex
Age: 5, 6, 7, 8, 9, 10, and 11
Gender: Male
Phrase: Eating at a restaurant in the rain while riding vehicles, shopping at day camp, and at a theatrical show by the beach on an adventure in space plus meeting grownups and Ava on Halloween with dinosaurs makes me super happy.
8 bit game: Skateboard Bonanza (With Graham Fair and Graham Day), TV Time, The Path (2x), By The Beach (2x), Store Galore (2x), Goodbye Gunk!, Object Match, Game On!, Recess Ritual, and Riverboat Racer.
Toy: Birthday Cake and Banana Boat