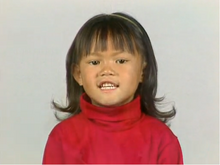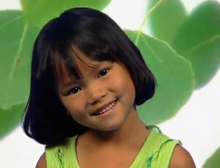 Madeline's first appearance was Sleep.
Side: Toodee
Age: 2
Gender: Female
Phrase: Never give up on your dreams.
8-bit game: Riverboat Racer
"ABCDEFGHIJKLMNOPQRSTUVWXY and Z. Now I know my ABCs next time won't you sing with me"
- Aspen, Dakota, Sierra, Dylan, Gabrielle, and Madeline
"No, No, No"
- Madeline
"Yellow Rabbit"
- Madeline
"Mama."
- Madeline
'Dada."
- Madeline
"Waaah!"
- Madeline
About her
Edit
About Madeline
Edit
You might recognize Madeline from her previous appearances on Baby Einstein as a toddler. She LOVES to sing in the Big Blue Car. She is the Lead Singer! Also, she wants to play Dead. But, She's still alive!
Madeline has been on Teeny Shakespeare and Teeny Van Gogh when she was a nauseatingly adorable toddler. She was 2 or 3 years old at the time, and couldn't talk, speaking in baby gibberish.
She remembers her mother giving birth to her.
Time Travel caused her not to exist.