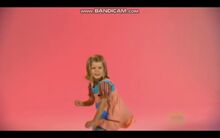 Not to be confused with Maddie Fretz, Maddie, Maddie Kaufman, Maddie Larson, Maddie Mothersbaugh, Maddie Strong or Madeline Pluto.
Maddie's first appearance was Eat, then she returned in Scary.
Side: a Grey sweater-dress and Toodee
Age: 7
Gender: Female
Phrase: Try it, You'll like It!
8-bit game: Go Kart Fun!