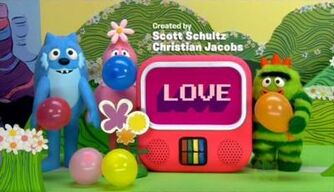 Love is the 19th episode of Yo Gabba Gabba!. It air on Valentines Day of 2008
In this episode, the Gabba gang learns about loving things.
Guest Stars
Edit
The Postmarks
Mark Mothersbaugh
Super Music Friends Show
Edit
"Balloons" featuring the Postmarks
"I Found Love" featuring Trembling Blue Stars
8-bit games
Edit
Segments
Edit
Keep Trying (Toodee and Foofa)", "I Love You", "I Love Flowers", "Be Nice To Everyone (With DJ Lance solo)";
Jingle: "I Found Love" by Trembling Blue Stars;
Mark's Magic Pictures: Elephant
Numbers: Surfing (Five)
DJ Lance Dance: "The March"
Play with Game with Foofa: Unicorn