Halloween is the 13th episode of Yo Gabba Gabba! from Season 1. In this episode, the characters dress up in outrageous costumes and take part in gathering their own private stash of candy.
Guest Star
Segments
Kids
Trivia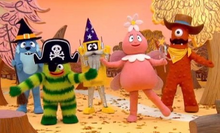 The costumes that characters wear in this episode are as follows:
This episode is Sadie Templin's birthday to celebrate.
Instead of saying "My work here is done. Goodbye, everyone!", Super Martian Robot Girl says, "Happy Halloween, everybody!".
This is the 2nd episode without Mark's Magic Pictures or Biz's Beat of the Day. The 1st was Summer, the 3rd is Dance (albeit it introduces the segment I Can Play), the 4th is Move, and the 6th is Imagine.
Watch
DVD Releases