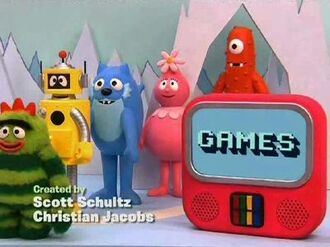 Games is the 22nd episode of Yo Gabba Gabba! and the 2nd episode of the 2nd season.
Synopsis
Edit
The Gabba gang play various games and try to follow the rules of the games.
Segments
Edit
First The Theme Song Plays
Max,Rory,Evan,Lucas,and Jayden appear
Jingle- Play With Me by The Clientele
Toy- Kim rides her Tractor
Mark's Magic Pictures
8 bit game- Rory plays Bubble Trouble
Nicholas,Spongebob,Daniel,and Patrick appear
Storytime- Bayou Boat Race
Toy- Rory rides his Lizard
Cool Tricks- Jacqueline Paris plays the flute on her nose
8 bit game- Jayden plays Build It Up
Margux appears
Knock Knock Joke Of The Day- Police
8 bit game- Beth plays Painting Windows
Colors With Brobee- Teal
8 bit game- Brian and Brayden play Knock on a Friend's House
Jada appears
Games for Foofa- Matching Game
Toy- Brian rides his Mini Orbiter
Listen To Sounds With Toodee- Computer Keyboard
Toy- Brayden rides his Dog
Henry appears
Funny Faces- Puffed Cheeks
Toy- Lucas,Evan,Spongebob,Max,and Patrick ride their Motorcycle
Mark's Magic Pictures- Golf Course
8 bit game- Evan and Max play Skateboard Bonanza
Isaac,Brayden,and Logan appear
Numbers- Transportation (in 8-bit version) (With the Kids being: Evie Pickerill Kingswinford,Caleb Carlin,Jack Dorsey,and Sarah Strong)
8 bit game- Spongebob plays Go Kart Fun!
Jokes,Puns,or Knock-Knock Jokes With Brobee- Tank
Toy- Logan and Isaac ride their Cardboard Box
Beth appears
Super Martian Robot Girl- Glitchers (Read By: Muno)
Coming Soon!!!
Margaux
Jada
Maxston
Rory
Beth
Ashley
Lucas
Spongebob
Isaac and Brayden
Evan and Max
Jayden
Brian
Henry
Kim