His first appearance was Sleep.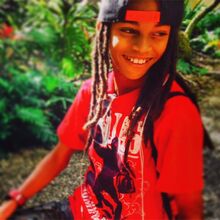 Note: Dillon is the sister of Emily.
Side: Brobee
Age: 7
Gender: Male
Appearance: Sleep
Goal: Whatever
Phrase: Accidents always happen, but it's OK--just fix it!
Appearance of the Kid
Edit
This kid is an African American boy with dark hair, an Orange sweater with Brobee on it covering a grey/white sweater, complete with green jeans and a pair of black Nike shoes.