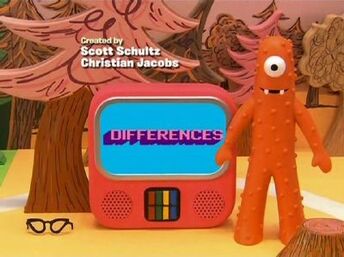 Differences is the 26th episode of Yo Gabba Gabba! and the 6th episode of the 2nd season.
Muno has to get glasses, while Brobee and Toodee learn that they should not say mean things to their friends, even if they look different.
Segments
Edit
"I've Got Glasses (I Can See Much Better)", "Don't Say Mean Things To Friends"All My Friends Are Different"
Jingle: "I Wear Glasses" by I'Kona
Mark's Magic Pictures: Carrot;
Storytime: "Argyle the Octopus"
Numbers: "Love Me"