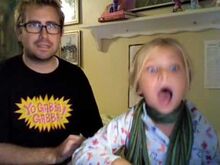 Darla's first appearance was
Eat
, then she returned in
Sesame Street Platinum All-Time Favorites
and
Teeny Santa
. 
Sides: Foofa and a White Dress
Ages: 7 and 14
Gender: Female
Appearances: Eat, Sesame Street Platinum All-Time Favorites and Teeny Santa's Music Box
Phrase: Whatever you do, Don't mess around!
8-bit game: Brush Up
Toy: Horse
Toy color: Red
Toy music: Wild on the Mild Side
Appearance of the Kid
Edit
The kid is a girl with blonde hair, Yellow overalls with Foofa on it covering a pink/red shirt, complete with red tights and a pair of black ballerina shoes.