Not to be confused with Aspen Ryder, Aspen Clark, or Aspen Strong.
Aspen first appeared in Careful, then she returned in Christmas, Birthday, Nature, Flying, and A Very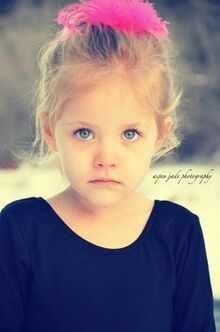 Awesome Christmas. She has a sister named Sierra Jarvis.
Special Appearance: Meet Ava with Sierra
Side: Brobee, Toodee, and Foofa
Age: 2, 3, 4, & 5
Gender: Female
Goal: Bus Cleaner, Taxi Driver, Hospital Doctor, and Granny
Phrase: Why did Mozart get rid of all of his chickens? Because they kept going Bach, Bach, Bach, Bach!
8-bit game: On Top of the World, Painting Windows, Bubble Trouble, Flying Bed, Riverboat Racer, and Walking, Walking (with Sierra)
Toy: Mini Orbiter, Robots, Sub Sandwich, Toy Train, Dinosaur, and Police Car (with Sierra)
Toy Color: Different Colors (Mini Orbiter), Gold (Robot), Dark Green (Toy Train), Light Green (Dinosaur), Light Blue (Dinosaur Spine), and White (Police Car)
Toy Music: Peaceful, Always on my Mind, Writing the Future, Human Evolution, Emerald Waltz, and Electronic
Appearance
Edit
In Careful, she wore a pink Foofa sweater with black tights and pink ballerina shoes.
In Christmas, she wore purple Toodee overalls with blue tights and black ballerina shoes.
In Birthday, she was a Brobketeer and wore three red horns on her head.
In Nature, she wore a yellow Foofa dress with black leggings and black ballerina shoes.
In Flying, she wore a yellow Toodee dress with black and white socks and pink shoes,
In A Very Awesome Christmas, she wore a yellow Foofa sweater with blue jeans and black Vans shoes.
Aspen is related to Sierra Jarvis, Brobee Eana, Evie Pickerill Kingswinford, Evan Strong, Isaac Acevedo, Logan Acevedo, Brayden Acevedo, Vincent Crawford, Curtis Bucher Jon-Jon Bucher, Aspen Clark, and Sierra Clark.
Her Brobketeer Friends in Birthday were Sierra, Brobee Eana, Evie Pickerill Kingswinford, Isaac Acevedo, Emily Yeung, Logan Acevedo, Preston Taylor, and Preston Rex.
Her Toy in Flying was made to resemble Reptar from Rugrats.
Aspen and Sierra both present Funtimes House with Brobee and Evie.