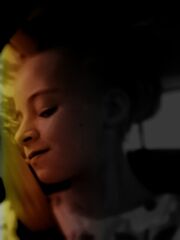 Not to be confused with Abbie Chamberlain.
Abbie first appeared in Play then she returned in Sesame Street Platinum All-Time Favorites.
She is the sister of Maddie and Ella, the cousin of Nick, Eli, and Hannah and Rachael, and the daughter of Margaret and Bob.
Side: Foofa
Ages: 7 and 10
Gender: Female
Phrase: Don't worry, be happy.
8 bit game: Race to the Finish Line
Toy: Motorcycle
Music played in her toy: TBA